Hello everyone!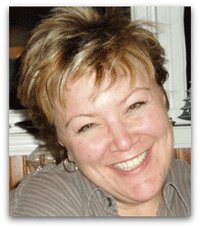 January 23, 2015
It's Cheryl here from Your Decorative Painting Resource.
IN THE NEWS
So, have you heard the latest? Well it seems that DecoArt, one of North America's favorite acrylic paint manufacturers, has discontinued 34 of their Americana branded paints.
Well, I just had to look for what was going on, and here's what I found. DecoArt's Helping Artist Coordinator, Rosemary Reynolds shared this answer with us, "We only discontinue colors if they are the slowest selling, on a worldwide basis."
I can't say that I like this but it makes perfect business sense to not spend money creating paints that don't sell.
For me, as a designer of instructional materials, who mostly uses the DecoArt paints, I worried that this may leave my painting customers in a bind. The paints were available when I created the designs but now some of them aren't. What would they do if they couldn't find the recommended paints? As it turns out I didn't have to worry.
Leave it to DecoArt to save the day! Only a few days after they announced their decision to eliminate these paints, they've created a mixing chart to allow you to re-create the colors you need. And they made it easy-peasy!!
So for your convenience, I'm providing a link to the list of discontinued paints and the mixing chart. Download it and keep it handy.
By the way, DecoArt currently offers 223 colors, and no doubt colors will come and go as the demand changes.
GLASS PAINTING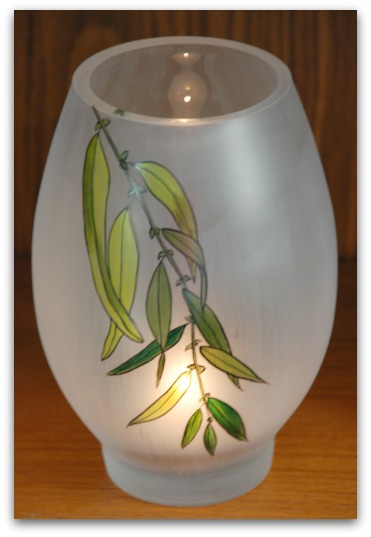 Frosted Vase with Willow Branch
E-Packet coming soon.
I've seen quite a bit of interest in glass painting. Have you ever tried it? Glass painting is one trend that has continued to grow in the last decade. It seems that folks love to paint on glass and glazed surfaces. Hey, call me crazy but I love glass painting too! The other thing I've noticed is that people LOVE getting hand painted glass gifts such as wine glasses, mugs, vases, glazed ceramic coasters, mirrors… almost anything you can imagine. In fact I painted the vase featured above and gave it to a friend as a birthday gift.
Seriously, you can make gift giving SO affordable and so much fun!! Go buy 6 wine glasses from The Dollar Tree or Dollarama, add a few brush strokes and voilà! You just impressed the heck out of your friend!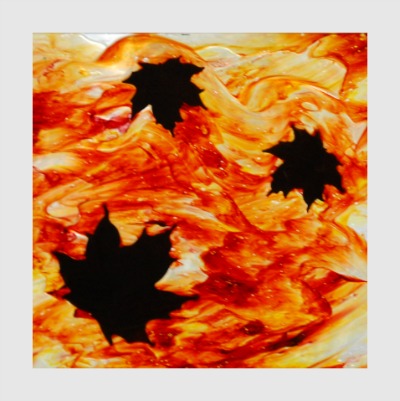 Autumn "Stained" Glass
How-To Instructions coming soon
GLASS PAINTING PAINTS
We know there's a lot of interest in glass painting because paint manufacturers are responding with ever so many more products to address the demands of the craft person and artist.
Over the years, I've tested a lot of paints made specifically for painting on glass and slick surfaces. Sad to say, but I have to admit I haven't kept up by testing the newest products now out on the market. So expect me to do some product testing soon and I'll let you know my findings. I'll give them a "thumbs up" or "thumbs down" based on the following criteria:
Ease of use
Dishwasher safe / permanence / durability
Opacity
Transparency
Price
and anything else that makes sense when I test them.
MORE GLASS PAINTING INFORMATION
Have you seen the glass painting section on my website? It's filled with a wealth of information you may find valuable if you're a glass painter. And if you're not already painting on glass, you may find that it inspires you to give it a try.
So when you have a minute or two, go visit the Glass section on my site.
I was thinking… maybe you'd like to check out a few glass painting projects. I have quite a few available and I would love to introduce them to you. And since you're a part of the YDPR family, why not get family pricing as well?
So here it is. Here's a coupon that you can use to get a 25% discount. All you have to do is load up your cart and use the coupon code when you check out to get 25% off. How cool is that? Use coupon code FamilyPrice25 (exactly as it is here) when you check out and get 25% off your total order.
THAT'S A WRAP!!
That's it for this week. Just want to keep in touch with you and hopefully inspire you to do something creative. It's so good for your body, mind and spirit to be creative, isn't it?
Talk soon,
Cheryl Poulin
Owner/Developer
Your Decorative Painting Resource
Earmark Purrductions Creative Studios
PS Here are those links again... just in case you missed them.
The DecoArt color mixing chart
Information about Glass Painting
Really cool glass painting projects and others
25% Discount code for all purchases FamilyPrice25
PPS Whenever you are on our site, don't forget to SHARE and LIKE with your friends using Facebook and Pinterest.
You can also leave me feedback on each page of my website. I love to receive feedback, so feel free to make a comment or two at the bottom of every page.
Feedback?
Comments? Burning questions? Ideas? Feedback?
Come on let me have it! I'd love to hear from you.
Just reply to this e-zine and tell me what you think…maybe you'd even like to share a tip and be mentioned in an upcoming issue!
---
Help Us Grow
Do you want to help us spread the word about Your Decorative Painting Resource? Why not pass this issue along to your creative friends and invite them to join the club! You'd be helping them and you would be helping me too.
---