Hello everyone!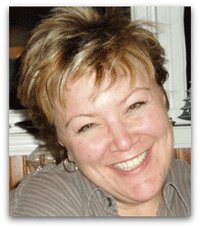 Hello to all my painting friends!
We're already nearing the end of the month and I'm a little behind getting your newsletter out to you. I've been taking some down time to just rest up and to spend some creative playtime in my studio. I hope you're making time for creativity too. It's so important in this fast-paced life we all live.
I'm pleased to announce that some of my latest designs have been accepted by PaintWorks magazine and as soon as the publications are ready I'll let you know. It's so awesome to be able to share my art with so many people around the world.
Since I'm finally all rested up, the studio will be in full swing and that means more cool ideas, designs and techniques to share with you.
Here's what you'll find in this issue…
New Year resolution
Free Pattern Packet - One of the four free packets we give to you.
The Big Deal
How to paint a Really Simple Winter Landscape
You Asked… I Answered
Quote of the Month
Chéryl
NEW YEAR'S RESOLUTION
Many of us make resolutions for the coming year. January first seems to hold so much promise. Some of us make good on our resolutions and some of us, not so much.
One of my goals for 2013 is to get rid of clutter. And the other is to do more kind things for others. My studio and the rest of my home for that matter, fills up with little bits of this and that and over time it gets to me. So de-cluttering is a big deal for this year. And as for doing kind things, well it just plain feels good so I want to do more of it.
Get this… I rounded up nearly five hundred 2oz bottles of acrylic paints!! Some of the paint bottles have never been opened and some are nearly full bottles. Knowing there is no way I could ever go through that much paint, I decided to take the opportunity to "pay-it-forward" and to de-clutter at the same time!!
I've donated ½ of these paints to two ladies I know (students) who over the years have done wonderful acts of kindness rescuing and nurturing cats…cats left outside to die, feral cats needing food and shelter and even taking a stray cat to the vet knowing it needed to be euthanized as it was so far gone. All of these expenses came out of their own pockets. You have to love people who care that much about our furry friends!
The other ½ of the paint bottles is going to a young mother who has set up a small home-based business offering art classes to children ages 4-12. I love that! Creativity is SO lacking in our school systems. I just think it's wonderful that this is available to children and parents. The extra paints will minimize some of her expenses. So I feel good about that.
I'd love to know what resolutions you've made going in to the New Year!
FREE PATTERN PACKET
Here is your free pattern packet. What a great opportunity for a headstart on next year's holiday season. This is one of the free packets that I promised to our club members. You will receive more designs in future issues of the Creative Chronicles. So stay with us since you never know what I may have in store for you. Add the packet to your cart. Then use Coupon Code Jan13FreePacket and update the cart and check out to get your free packet.
THE BIG DEAL
Here's a big deal for painters of all levels. Yes these designs are great for beginners but provide a result that even advanced painters will love. Here is a bundle of two packets.
The Apple Orchard is for any flat surface. I painted mine on stretched canvas.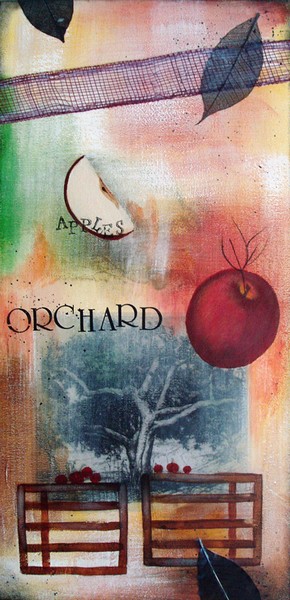 Martini Safari is a fun glass painting project.
Normally we sell these packets for $9.95 each.
But here's your big deal.
You can have them both for just $9.97.
Just pop them into you shopping cart, pay by PayPal or any credit card and check out.
It's safe. It's simple.
HOW TO PAINT A REALLY SIMPLE WINTER LANDSCAPE
(Easy-Peasy!!!)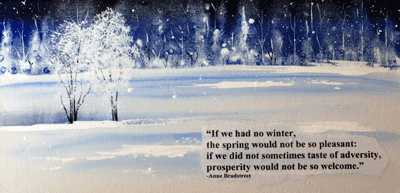 I've added a new page to the website featuring a really simple landscape for those of you who have never painted before. And for those of you have some experience, you might like it too! It's lovely and conveys a wonderful inspirational message. You can find it here.
Or course I'll be adding other landscapes featuring different seasons and other themes. Some of the projects will be simple, not so simple, and more advanced. Let's just start with these baby steps for now, OK?
YOU ASKED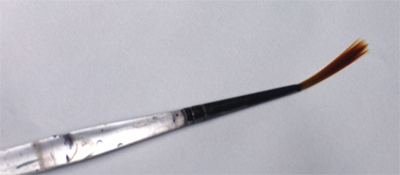 Joan from Toronto asked about rescuing a ruined brush.
She asked: I know I shouldn't leave my brushes resting in dirty water but sometimes I get lazy or I forget. Anyway, it looks like I've ruined my favorite Liner brush. It's bent at a funny angle and I can't straighten it out. Can it be rescued?
Here was my response: Sometimes brushes can be rescued from being poorly handled. Not always mind you, but it can't hurt to give it a try. Here's what has worked for me from time to time.
Get some hand sanitizer or rubbing alcohol. Soak the hairs and blot on a clean paper towel. Make sure the alcohol gets right up into the ferrule (the metal part that crimps the hairs). Continue soaking and blotting until all traces of paint and dirt disappear. Now wash the brush in cold water with hand soap. Rinse well. Next, boil the kettle. Carefully pour the boiling water over the brush hairs. They should spring back in shape! If not, well, time to shop for a new brush!
QUOTE OF THE MONTH
The world is but a canvas to our imagination. – Henry David Thoreau
---
Happy painting!
Cheryl and the gang!
Your Decorative Painting Resource
With you step by step on your creative journey

Published by Cheryl Poulin
3152 Stonecrest Road RR2
Dunrobin, Ontario
K0A 1T0
CANADA

---
Feedback?
Comments? Burning questions? Ideas? Feedback?
Come on let me have it! I'd love to hear from you.
Just reply to this e-zine and tell me what you think…maybe you'd even like to share a tip and be mentioned in an upcoming issue!
---
Help Us Grow
Do you want to help us spread the word about Your Decorative Painting Resource? Why not pass this issue along to your creative friends and invite them to join the club! You'd be helping them and you would be helping me too.
---