Hello everyone!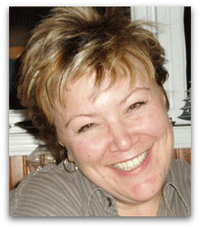 Hello to all my painting friends!
I've put together a short Holiday issue of the Creative Chronicles. I know everyone is busy preparing for Christmas and other joyous occasions at this time of year. There's the shopping, the baking, the decorating and readying the house for company to arrive.
Creative people like you and me are painting, making greeting cards and all manner of other beautiful things to give as presents or to decorate our homes.
I hope you'll take some time for yourselves and just enjoy the special holiday season!
Here's something I think you'll be pleased to learn…. All of my winter themed pattern packets (packets by Cheryl Poulin) are on sale at 50% off…. including 2 brand-spanking new designs! This sale is only for club members and that means you! Just my way of spreading a little Christmas cheer! To get your discount on Packet Numbers CBP0012 through CBP0018 use this Special Coupon Code... HappyHolidays You can find them here on our site.
Here at Your Decorative Painting Resource, I'm winding down the studio for a few weeks. During this time I'll be putting on my creative cap and then I'll bring you more designs featuring seasonal landscapes, floral themes, step-by-step demonstrations and much more.
In this issue…
1. New Quick and Easy E-Packet
2. How to Paint Trees Step-By-Step
3. New Intermediate E-Packet
4. You Asked… I Answered
5. Free Pattern Packet
6. Thanks for your feedback
7. Quote of the Month
8. Next Month's Line-up
NEW QUICK and EASY E-PACKET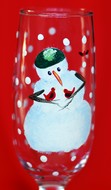 I've just added a quick and easy glass painting design to the website. It's so adorable. You could make a set of champagne flutes or wine glasses in just half an afternoon! Why not make it a social thing and have some friends come paint with you and share some Christmas cheer?
I've included a comprehensive color worksheet in the design packet to simplify things for you. This e-packet is available at ½ price from now to January 2, 2013 at midnight for club members.
You can get your discounted packet on our website using the following code to apply the discount in your shopping cart... HappyHolidays
HOW TO PAINT TREES STEP-BY-STEP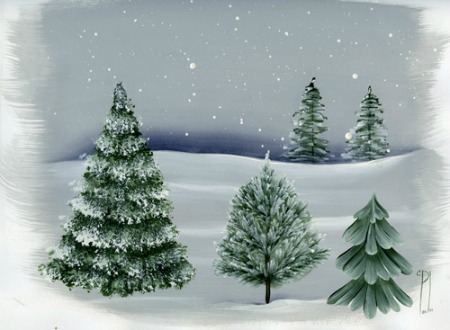 I've added a new page to the web site where I'm demonstrating clever techniques for painting trees. I'll show you how to paint 4 easy evergreen trees you can create by using a Flat Brush, a Deerfoot Brush and a Round Brush. Here's where you can find the step-by-step tutorial. Learning one of the four techniques will really help you paint my new snowmen design! I'm just sayin'…
NEW INTERMEDIATE E-PACKET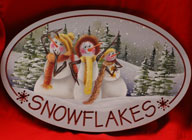 December has been a very creative month for me so far. I just love it when I hit a string of very productive days. I've been knitting and sewing and doing some random sketching. And so was born my new design featuring a family of snow people dressed in fuzzy hand knitted hats and scarves! Such fun! This e-packet is available at ½ price from now to January 2, 2013 at midnight for club members. You can get your discounted packet on our website using the following code to apply the discount in your shopping cart... HappyHolidays
YOU ASKED
LISA from Santa Cruz asked about painting on dried gourds.
Q. I would first like to thank you for this site - it's pretty awesome! Secondly, do I HAVE to cut the gourds open and clean out the insides before painting if they are dried out thoroughly, beforehand? Just wondered if this step could be bypassed. Thank you.
Here was my response:
Nope, you don't have to clean them out. Most of the time I don't. I just love the sound of the rattling seeds inside. Many thanks for your wonderful feedback.
FREE PATTERN PACKET
Here is your free pattern packet and it's just what you need to warm you up this Holiday season. This is one of the free packets that I promised to our club members. You will receive more designs in future issues of the Creative Chronicles. So stay with us since you never know what I may have in store for you. Add the packet to your cart. Then use Coupon Code Dec12FreePacket and update the cart and check out to get your free packet.
THANKS FOR YOUR FEEDBACK
Thanks so much for letting me know how you feel about my e-packets. The responses were very favorable. You liked the price range but obviously love it when I put some packets on sale! And I'm really pleased that you find the instructions so helpful. I will continue to provide the same quality and service in the future and always improve wherever I can.
QUOTE OF THE MONTH
"Painting is just another way of keeping a diary." - Pablo Picasso
NEXT MONTH'S LINE UP
Here is what we plan for next month's Creative Chronicles…
New Year resolution
Free Pattern Packet - One of the four free packets we give to you.
How to paint a simple landscape
You Asked… I Answered
Quote of the Month
Merry Christmas, Happy New Year and a safe and happy holiday season to all.
Chéryl
---
Happy painting!
Cheryl and the gang!
Your Decorative Painting Resource
With you step by step on your creative journey

Published by Cheryl Poulin
3152 Stonecrest Road RR2
Dunrobin, Ontario
K0A 1T0
CANADA

---
Feedback?
Comments? Burning questions? Ideas? Feedback?
Come on let me have it! I'd love to hear from you.
Just reply to this e-zine and tell me what you think…maybe you'd even like to share a tip and be mentioned in an upcoming issue!
---
Help Us Grow
Do you want to help us spread the word about Your Decorative Painting Resource? Why not pass this issue along to your creative friends and invite them to join the club! You'd be helping them and you would be helping me too.
---