Hello everyone!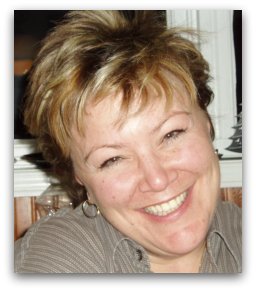 Well, we did it!! We asked… you answered with your suggestions and votes. We loved all of the suggestions for a new name for our newsletter. Now the results are in and the most votes win the day.
As a result our newsletter, The Palette Gazette, has been reborn and renamed The Creative Chronicles. We love the name since it truly reflects what our newsletter is really all about. So thanks for all of your help in renaming our newsletter. We couldn't have done it without you.
January was a very busy month. I was active in the studio brainstorming new ideas as well as reviewing and testing products. Many of you ask for advice and more in-depth information and we're happy to deliver it to you. There's nothing like using real hands on experience to provide you the best information possible.
We've been working on the website as well. We have plans to rework and improve most of the content on the site over the next months. Some of the web pages have been re-worked already and I hope you'll find them more informative.
Actually you can let me know how you like our changes. There is a "Like" button and a place to make comments at the bottom of each page. So, as you explore each of the pages on our website, please let me know what you think and how we can serve you better. Oh… and don't forget to vote with the "Like" Button as well.
Let's see… what else is new? Oh yes… many of you have been asking where to buy some of the products we use and love, so we'll soon be providing you with a way of getting some of the products you've been asking for too! Information and products all in one place… Convenience is everything!
Enjoy the newsletter and remember, your feedback is really important, so stay in touch.
Cheryl
WEBSITE UPDATES
As we mentioned earlier, we have been busy improving our website. We've added some new pages to the site as well as updating some older content. And there's much more to come.
Have you tried painting on fabric? It seems many others have since there's been quite a bit of interest in fabric painting lately. So, in response to a demand for more and better information on that topic, the information for Fabric Painting has been changed quite a bit and our site and is much more informative than before. Check out fabric painting techniques page. All the work is not complete yet since I need to add images to the page. I promise to add images real soon. Give fabric painting a try… it may become your new passion.
While we're on the topic of fabric painting, we've added a new page about specific products for all your fabric painting needs as well. Why not pay the page a visit and tell me how you like it?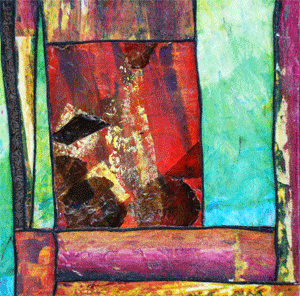 Here's an example of two pieces to show that fabric painting can take on more creative spins than just painting on a T-shirt, although that's heaps of fun too!
I created "Shattered", a Mixed Media Painted Fabric on Canvas, by incorporating remnants of painted and dyed fabric (muslin).
Hemp cord was painted black and adhered in a pattern creating the illusion of "stained glass" panels. Then I added mica tiles to suggest broken glass. Of course, it looks better in person, if I do say so myself!
The canvas apron is also an original design and a work in progress. I keep meaning to finish it and now that I've featured it here in the newsletter, I'd better get it done. I get distracted with all of the products I'm experimenting with!!! I'll let you know when the how-to instructions and supply list becomes available… soon I promise!
I NEED TO PICK YOUR BRAIN
I want our website to be the best of the best when it comes to all things creative. And I want to bring you everything you need to help you on your creative journey. So that's why I would love to receive your feedback.
Would you like to see short demonstration videos on the website? Or would you prefer to see photos with step-by-step written instructions? Personally, I like photos with great step-by-step instructions. But everyone learns differently. So please, if you have a moment, let me know what your preference is.
NEW FACEBOOK PAGE
Oh it's so much fun chatting with creative people like you. For that reason I've put up a new FACEBOOK page. Look for ARTspark and come visit. It would be great if you "LIKE" it, so while you're there don't forget to click that little "Like" button. Here's where you can find the page.
Stay in touch and watch the website grow with more and more changes, improvements and new techniques! It's all going to be there just for you!
If you have creative friends who you think would enjoy this newsletter, please send them a copy and encourage them to sign up for the next installment.
Happy painting!
Cheryl and the gang!
Your Decorative Painting Resource
With you step by step on your creative journey

Published by Cheryl Poulin
3152 Stonecrest Road RR2
Dunrobin, Ontario
K0A 1T0
CANADA

---
Feedback?
Comments? Burning questions? Ideas? Feedback?
Come on let me have it! I'd love to hear from you.
Just reply to this e-zine and tell me what you think…maybe you'd even like to share a tip and be mentioned in an upcoming issue!
And hey, if you want to pass this issue along to other creative friends, by all means do so!
---
New!

Comments Have your say about what you just read! Leave me a comment in the box below.