April 24, 2015

It's Cheryl here from Your Decorative Painting Resource.

I'm amazed that I am here. Finally got the studio cleaned up! Yeah! But what a mess! I'm surprized I wasn't burried alive!

But I survived... even managed to create a couple of pages in my art journal. And that always feels so good. Anyone else out there into art journaling? I'd love for you to share some of your pages.

Driftwood Art and Using Your Imagination

As a decorative artist, not many surfaces escape my scrutiny and I'm sure that's true for you too. As someone has said in the past, "If it's not moving, it gets painted!"

I find that it's always fun to score a curb-side piece of worn out furniture on garbage day. There's something rewarding about finding old stuff that I can refurbish and make anew.

But in addition, I'm particularly attracted to natural and organic shapes. Take driftwood for instance... not the man made stuff, but the bits and pieces of old trees that have been polished and dried by nature over time. As I stare at a piece of driftwood, I look for images to appear. I know it sounds strange... but they usually do. The shape will suggest a story or something more obvious.

Anyway, this reminds me of a story. I was attending an art show, where I had on display one such painted piece of driftwood, hoping to attract commissioned work. In no time at all I had my first client who wanted me to paint an original piece as a Christmas gift.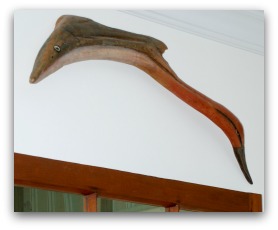 I was thrilled to have the opportunity to paint for my client. And with joy in my heart, I painted the piece featured here.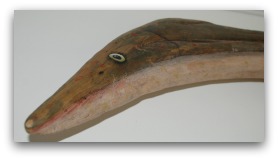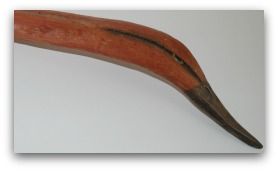 I couldn't wait for my hubby to see it. He was at work. I waited. And there he was and I couldn't wait any longer.
"Look what I created for my client!"
To which my husband replied, "It's beautiful. In fact... you can't sell that one. I want it." Have I mentioned he's a big fan of mine?
So we hung it in the kitchen over the mirror. The piece measures about 34-inches. And truth be told, I'm glad we still have it.
So, now I have another piece of art on my wall but I still have a client waiting. So I thought, OK, I'll come up with something else, which, a few days later, I did.
And the result? You guessed it... it was now hubby's NEW favorite piece! He liked that this was a small piece and he could keep it on his desk. It's about 9-inches long and 5-inches high. Years later, he still loves it!
Let's not forget I still have a client expecting something from me! Fine, I'll do another piece...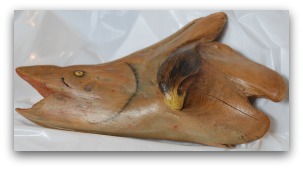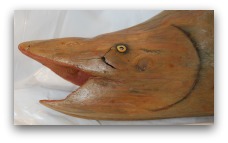 Well, I'd love to say that I delivered a piece of beauty to my client... but there was no way. Finally I had to contact my client and express my apologies for not being able to fulfill my commitment. Thankfully she saw the humour in the story.
I'm happy to report, I have since sold many pieces of painted driftwood. And all it took was for my husband to realize we were running out of room to display all of his favorites!!
The reason I'm sharing this is to show you there are so many opportunities to express ourselves artistically and in so many ways!!!
Also know that inspiration can come from anywhere... even the smooth curves of a unique piece of driftwood, crafted by nature. And as a bonus, you can sell your pieces and earn some decent money while you're at it!
In next week's issue of The Creative Chronicles, I will feature an article on How to Price Your Decorative Painted Pieces for Selling. If you want to sell your pieces at a craft show or if people at work wants to commission you to paint something for them, you don't want to miss this!
That's A Wrap!
That's it until next week.
Talk soon,
Cheryl Poulin
Owner/Developer
Your Decorative Painting Resource
Earmark Purrductions Creative Studios
PS Whenever you are on our site, don't forget to SHARE and LIKE with your friends using Facebook and Pinterest.
You can also leave me feedback on each page of my website. I love to receive feedback, so feel free to make a comment or two at the bottom of every page on my website.
PPS Remember when you click one of my links to buy something you want or need, I sometimes get a few pennies. It doesn't cost you any extra, but it does help me pay the rent.