April 20, 2015
It's Cheryl here from Your Decorative Painting Resource.
What a fabulous week it has been! How quickly the days go by, though. I must confess to not making any time for art. BUT, I am cleaning up and de-cluttering the studio. What a way to spend my Birthweek huh? OMG, do I ever have a lot of stuff. And books, books, books... so many I had to get hubby to bring me another lateral file cabinet!
The de-cluttering does feel good but it's SO much work. And then I get conflicted. Do I part with this book, will I use this product, will I ever finish this canvas? And of course I end up keeping most of the stuff.
Anyone else out there with stashes of stuff? How often do you purge?
How To Photograph Your Painted Projects
Whether you want to share photos of your painted projects with your friends on Facebook or you want to create a portfolio of your works, taking a good photo is very important. Here are a few tips no matter what kind of camera you're using.
Paintings that will go under glass should be photographed before they are framed.
Wall art should be mounted flush to the wall and photographed square on.
Three dimensional decorative painted projects should be photographed prior to varnishing.
The best lighting is outdoors on a cloudy day.
Remove all distractions from the item being photographed.
A white backdrop is ideal to showcase the item.
Take lots of photos at different angles.
Then edit the best photo to crop and to adjust colors if needed.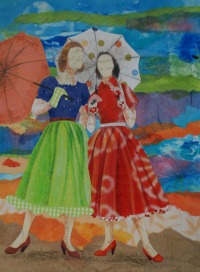 Before editing
I use a free online photo editing tool at Pic Monkey. You can find it here. http://www.picmonkey.com.
The image above is a photo of a pieced paper collage on canvas before I edited it with Pic Monkey.
Incidentally, this mixed media pieced collage was featured as the front cover of a US magazine called Underwired. (Sadly it's no longer in publication).
Edited Using Pic Monkey
Above is the same artwork with the colors adjusted using Pic Monkey. I also used Pic Monkey to apply a virtual frame and mat to the artwork. How cool is that? Magic!!
By the way, if you'd like to learn to create a pieced collage from your family photographs, drop me a line right now. If there's enough interest I'll put together a detailed tutorial. It's heaps of fun. Just hit reply to let me know you're interested. OK, enough about that...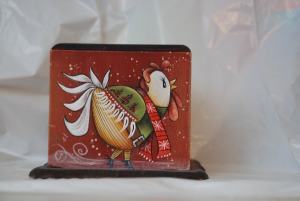 Original Photo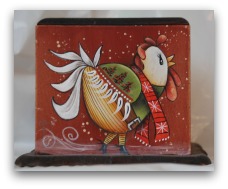 Cropped Photo
On the top is the original photo of a votive candle holder featuring my funky winter chicken. I used a white trash bag for my backdrop, but usually I use a white cotton cloth. But, since I've tidied up the studio I couldn't find the darn thing.
The next image has been cropped and I also used a feature in Pic Monkey for "floating" the image by creating a drop shadow.
I think that Pic Monkey is one of the best editing tools around. It's easy to get to know and you can have a lot of fun with it. There's so much you can do with it and it's FREE!!!
Once again... here's where you can find it... http://www.picmonkey.com.
Whoooooppeee!!!!
That's A Wrap!
That's it until next week.
Talk soon,
Cheryl Poulin
Owner/Developer
Your Decorative Painting Resource
Earmark Purrductions Creative Studios
PS Whenever you are on our site, don't forget to SHARE and LIKE with your friends using Facebook and Pinterest.
You can also leave me feedback on each page of my website. I love to receive feedback, so feel free to make a comment or two at the bottom of every page on my website.
PPS Remember when you click one of my links to buy something you want or need, I sometimes get a few pennies. It doesn't cost you any extra, but it does help me pay the rent.