Hello everyone!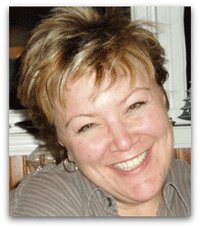 January 12, 2015
Hello everyone!
It's Cheryl here from Your Decorative Painting Resource. Hoping your new year has gotten off to an amazing start.
Did you participate in our survey? If you've been with me awhile, you'll have been invited to complete a survey regarding what you would like to learn from me. Yes, a few months ago many of my long time subscribers filled out a short survey. Thanks for doing that, by the way. It really helps me plan and focus on how to be the best I can be for you. It occurred to me that you would enjoy seeing the results of the survey, so here they are.
REPORT ON THE SURVEY
What level of painting skills do you have?
61% of you said Intermediate, 16.9% said Advanced, 16.9% said Beginner just starting out, and the remaining said they weren't sure or they were total newbies.
What additional training would you like?
23% said anything goes, 19.6% want to learn special techniques, 17.6% want more glass painting, 12% want a refresher course for those who haven't painted in a while, 10.7% want painting on metal, 9.7% want a brush stroke boot camp for beginners and 7.4% want more information for painting floorcloths.
What is your preferred subject matter?
46.5% said anything goes, 17.7% said painting flowers, 14.2% said landscapes, 11.1% said seascapes, 10.6% want to paint trees.
What seasonal themes do you like best?
12.9% said Christmas, 12.4% said anything goes, 11% said winter scenes, 10.9% said falls scenes, 10.2% said snowmen, 10% said summer scenes, 8.7% said spring scenes, 7.1% said angels, 7% said Halloween, 6.1% said Thanksgiving, 3.7% said Easter.
What is your preferred medium?
54.5% said acrylics, 13.4% said colored pencil, 10.6% said mixed media, 9.3% said watercolor, 8.5% said oil, 3.7% said pastels.
Other Training:
The most dominant response was about perfecting floated color for shading and highlighting, people want to learn more about using dimensional mediums, painting faces, achieving realistic animal fur, painting on fabric pillows, learning color theory and how to do their own original designs.
What subject matter do you really want to paint?
Overwhelmingly people said they really want to paint Christmas themes, including Santas, followed with strong interest in angels, florals, roses, trees, palm trees, birds, still life, old barns, primitives, country and Rosemaling.
What's your favorite seasonal themes?
No surprises here, the majority love to paint winter themes as that includes Christmas. Following is Fall because of Thanksgiving and Halloween. And lastly, Summer and Spring came neck and neck.
What other mediums do you enjoy?
Acrylics came in first followed by watercolor, pastels, oils and mixed media. There's growing interest in chalk paint, mud polymer clay, inks and dry pigments.
General feedback and comments:
Many people are returning to decorative painting after a long absence and are looking for refresher courses with as many tips and techniques as possible. Detailed step-by-step with lots of photos is important. Free stuff (of course). Many expressed a desire that I stay in regular contact because they feel motivated to keep painting. (That's nice to hear!)
So there. Now with all of this information I can bring so much more to you... more of what you really want. Thanks so much for participating in the survey. It's wonderful people like you who keep the painting spirit alive.
In the meantime, feel free to reply to this newsletter and tell me what else you'd like to see more of on the site and as course materials.
HANG ON TO YOUR HAT!!!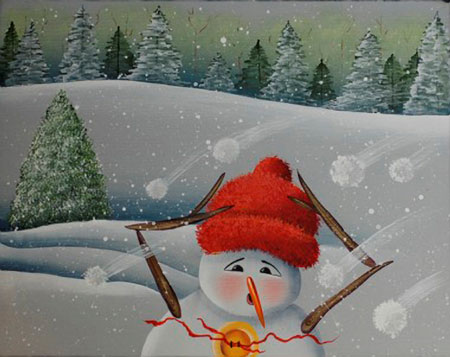 New e-Packet by Cheryl Poulin
More exciting news… My newest packet is now available.
Everyone who downloaded my FREE How To Paint Trees Reference Guide was offered a deeply discounted, 3 Packet Bundle which included my newest e-packet that was, at the time, not available on the website. The whole bundle was priced at only $7!!! Crazy! Not everyone bought the bundle and that's OK, there was no obligation to buy… there never is. But $26 worth of packets for $7 is quite a deal. If you DID buy the bundle, thanks so much, I do appreciate your support.
So what's in the bundle? There are 3 e-packets including my new e-packet and more evergreen trees and snowmen as well as a glass-painting project featuring Pine Cones and Boughs. This is a value of almost $26... all for ONLY $7. How could you go wrong with this deal? Get it now before I change my mind. How do you get the $7 bundle? Here it is.
If you just want to learn more about the new e-packet, check it out here.
ANOTHER GREAT QUESTION THIS WEEK
As you know I am always asked questions about decorative painting and I am happy to share those with you so you can learn as well.
Nathalie from Quebec, Canada writes: Hi Cheryl! I bought some pre-primed canvases and I placed them in the back of my car. When I got home, I noticed that one of the canvases was leaning on a cardboard box. The canvas now has a pointy bulge right in the middle of it coming from the back. Is it ruined?
I wrote: Hey Nathalie, not to worry. If the canvas is intact without any tears, then just spray the un-primed back of the canvas with clean water and as the canvas dries it will tighten and your canvas will be good as new. You can do this if the canvas is dented either from the back or the front. Just spray the back and everything will tighten up again.
If something similar happens to a painted canvas, you can do the same thing, spray the un-primed back of the canvas and all will be well.
OK, folks! That's all for this week.
Talk soon,
Cheryl Poulin
Owner/Developer
Your Decorative Painting Resource
Earmark Purrductions Creative Studios
PS Here are those links again... just in case you missed them.
Check out all of my available packets.
Feedback?
Comments? Burning questions? Ideas? Feedback?
Come on let me have it! I'd love to hear from you.
Just reply to this e-zine and tell me what you think…maybe you'd even like to share a tip and be mentioned in an upcoming issue!
---
Help Us Grow
Do you want to help us spread the word about Your Decorative Painting Resource? Why not pass this issue along to your creative friends and invite them to join the club! You'd be helping them and you would be helping me too.
---