Hello everyone!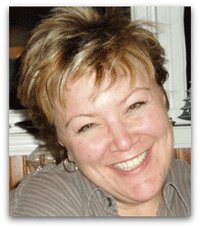 Hello to all my painting friends!
Where did the month of June go? And how did it get to be halfway through July? Oh my…
I hope you are all busy painting and crafting. I find this time of year people are out in their gardens or spending more time at their cottages and summer homes. Painting seems to fall by the way side. I must confess, this happens to me too.
However, the other day I was inspired to paint a small floor cloth. And I'm going to share it with you here in this issue of The Creative Chronicles. I hope you like it.
Here's what you'll find in this issue…
Paint a Floor Cloth
Reverse Glass Painting, a visitor to the web site shares her work
A New Career!
Free Pattern Packet - One of the four free packets we give to you.
Quote of the Month
Chéryl
PAINT A FLOOR CLOTH
I love painted floor cloths and I love painting my own. Sometimes I get these ideas and I just have to see them through. I had a rectangular flannel backed vinyl tablecloth that I purchased from a discount store. It measured approximately 70-inches x 50-inches I got to thinking that I could get 4 little floor cloths if I cut it up into 4 sections. And that's what I did. I didn't even have to make a hem! So easy.
MATERIALS
70 x 50 flannel backed vinyl tablecloth
scissors
yard stick or ruler
fine tipped permanent marker
painter's tape
stencil of various size circles
1-inch foam brush
#1 Liner brush
sea sponge (optional)
White gesso
PALETTE, DecoArt Americana Multi-Surface Satin
Vanilla Shake
Blue Lagoon
Canary
Coastal Waters
Divide the tablecloth into 4 equal rectangles and cut with scissors.
Apply 2-3 coats of gesso to the vinyl side, drying in between each coat. Then do 2 coats on the fleece side. This will give more "weight" to the floor cloths.
Measure a 2-1/4-inch border around the perimeter of the floor cloth. Paint it Blue Lagoon using the sponge brush. 2 coats will do. Allow to dry completely.
Mask off the border with painter's tape and use a slightly damp sea sponge to sponge on Coastal Waters in the middle of the floor cloth. If you wish, you can leave some of the white background showing through to create visual texture or you can completely cover the area with no white showing through. It's up to you. 2 coats will do the trick.
When completely dry, add circle shapes using the stencil and the permanent pen. If you don't have a stencil, use small plates, glasses or other round shapes and trace around the circumference with the permanent marker.
Paint some of the circles with Blue Lagoon, some with a mix of Coastal Water + Vanilla Shake, some with Canary and others with a mix of Canary + Vanilla Shake. Of course you could try other color combinations too!
Outline the rectangle border with Vanilla Shake using a liner brush. Don't worry about perfect lines.
There is no need to varnish the floor cloth, as the Americana Multi-Surface paints are very durable and flexible once air cured for 7 days.
REVERSE GLASS PAINTING
Angela Coco shares images of her artwork.
I just recently I received an inquiry about using alcohol inks on glass. Here is Angela's inquiry:
"This site has been extremely helpful! I want to do a specific art piece: I want to use enamel paint with strong color to paint a shape on a glass sheet that fits in a frame. I would paint on the "inside" part. Then behind that, I want to use alcohol inks for the background. If I allow the enamel to cure, with the alcohol inks ruin it?"
Here was my response:
"Once the enamel paint cures I don't see how alcohol inks would affect them, however I have not experimented with this myself.  I would suggest you do a test piece first just to be sure. When you're done, I'd love for you to send me a photo and I would feature it on the website for others to see.  :o) Have fun with your project!"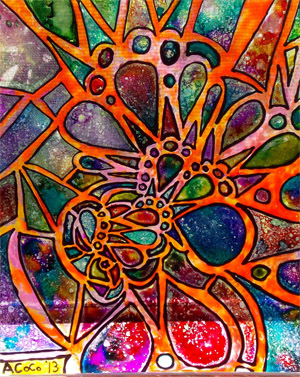 Since then Angela went ahead with her project idea with great success and she graciously gave me permission to share her images with you. This is original artwork so please do not copy it. Rather, I hope it will inspire you to try something on your own.
I'M BUILDING A NEW CAREER!
(But don't worry; I'm still painting, designing and teaching!)
Those of you who know me and have painted with me for many years know that I am on my way to losing the excess pounds I've carried for so long. I'm doing it very slowly and it's a way of life for me, which fits with who I am. I'm finally at peace with my body just as it is in the present moment. And I've finally done away with my inner critic. I'm down 26 pounds from my heaviest and still counting down.
Because of my years of experience with this personal struggle I know the pain and shame of being overweight and not being happy in that state. I'm not saying everyone feels the way I did but I know plenty who do. So because of my empathy and the fact that I'm walking my talk, it's become my desire in life to help others on their health and wellness journeys.
In the beginning of March of this year I started a 7-month long course studying Life Coaching. My niche is health and wellness, specifically dealing with men and women who want to achieve and maintain a significant weight loss. At the end of this intensive and demanding course I will be a Certified Coach. At which point I will go on to work toward becoming a Master Coach.
I'm studying with the Institute for Professional Excellence in Coaching (iPEC). It is the first and still the only International Coach Federation (ICF) accredited school to include in their standard curriculum all of the training needed to qualify as a masterful coach.
In the meantime, in order to become certified I need to do some complimentary 45 minute coaching sessions. It doesn't have to be about weight loss, it can be about career changes, life changes, transitions, specific goals and unfulfilled dreams. Anything at all.
So, I wondered if any of you would like to learn more about what coaching is and what it would be like to try out a free session. If you like the experience and can see immediate ways in which coaching could help you, I would be pleased to sign you on as a client at a very reduced rate. No obligations of course!
All sessions are done over the phone and your privacy is completely protected. If you're interested please e-mail me with COACHING in the subject line.
You would be helping me greatly and I would love to be of service to you. You may visit me here for more information on what coaching is all about.
FREE PATTERN PACKET
Here is your free pattern packet. What a great opportunity for a head start on next year's holiday season. This is one of the free packets that I promised to our club members. You will receive more designs in future issues of the Creative Chronicles. So stay with us since you never know what I may have in store for you. Add the packet to your cart. Then use Coupon Code earlyxmas and update the cart and check out to get your free packet.
QUOTE OF THE MONTH
"I am an excitable person who only understands life lyrically, musically, in whom feelings are much stronger as reason. I am so thirsty for the marvelous that only the marvelous has power over me. Anything I cannot transform into something marvelous, I let go. Reality doesn't impress me. I only believe in intoxication, in ecstasy, and when ordinary life shackles me, I escape, one way or another. No more walls." - Anais Nin
Summary of Links

Here is a summary of links in this Newsletter.

---
Happy painting!
Cheryl and the gang!
Your Decorative Painting Resource
With you step by step on your creative journey

Published by Cheryl Poulin
3152 Stonecrest Road RR2
Dunrobin, Ontario
K0A 1T0
CANADA

---
Feedback?
Comments? Burning questions? Ideas? Feedback?
Come on let me have it! I'd love to hear from you.
Just reply to this e-zine and tell me what you think…maybe you'd even like to share a tip and be mentioned in an upcoming issue!
---
Help Us Grow
Do you want to help us spread the word about Your Decorative Painting Resource? Why not pass this issue along to your creative friends and invite them to join the club! You'd be helping them and you would be helping me too.
---