Hello everyone!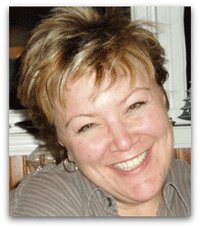 Hello to all my painting friends!
Well, the studio is officially re-opening on St-Paddy's Day! It should make for a fun painting day!
My apologies for getting this newsletter out to you so late - I had some technological problems and well, I couldn't do much.
The tutorial in this issue is a condensed version of what I will be adding to the website. In the next week or so I will provide you with much more comprehensive information on the topic of brushes, I promise you.
Here's what you'll find in this issue…
About the Mop Brush
Free Pattern Packet - One of the four free packets we give to you.
You Asked… I Answered
Quote of the Month
Chéryl
ABOUT THE MOP BRUSH
Mop brushes are wonderful!! They come in handy when we need to smooth out a less than perfect float. And properly handled, they can help us blend colors almost effortlessly.
FOR SHADING AND HIGHLIGHTING
To enhance the blended appearance of shading and highlighting first start by moistening the area where you're going to create the shade or highlight. By doing this, you're buying yourself a bit of open time…the area won't dry as quickly.
While the area is damp, float the shade or highlight. Working quickly, pick up the mop and softly pounce the bristles into the float at the water line and moving into the paint. You can keep pouncing lightly as long as the area is still damp.
FOR CREATING CENTER HIGHLIGHTS
Creating a round highlight, say in the middle of a circular shape can be challenging. Here's what I do.
First I moisten the whole circle. Then I apply the highlight with the paint corner of the brush pointing toward the center.
I go all the way around with the water edge to the outside to create a circular highlight. Doing this leaves unwanted brush marks.
I use the mop gently, pouncing first at the water line and moving in toward the center, thereby removing the harsh lines.
I quickly wipe the bristles on a dry paper towel and finish up the highlight by gently pouncing in the middle of it while it's still wet.
Coming soon I will add a new page to the website where I'll demonstrate other ways of using mop brushes. I'll show you how to use the mop for creating cloud effects, water ripples and much more. I'll make an announcement in next month's newsletter when that page is ready.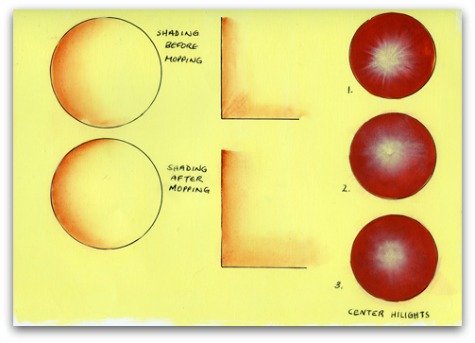 FREE PATTERN PACKET
Here is your free pattern packet. What a great opportunity for a head start on next year's holiday season. This is one of the free packets that I promised to our club members. You will receive more designs in future issues of the Creative Chronicles. So stay with us since you never know what I may have in store for you.
Add the packet to your cart. Then use Coupon Code Mar13FreePacket and update the cart and check out to get your free packet.
YOU ASKED
Altered Books Tutorial
Terry from Odenville contacted me from my other website. Terry wanted to know when I was going to do another tutorial on Altered Books. Here is the altered books tutorial that was referenced.
My answer:
Hi Terry,
I haven't created any tutorials on Altered Books in a while but it's on my massive list of things to do! I'm so glad you asked... I think I'll up the priority on that one.
When I do create another tutorial I'll announce it through the newsletter from my other website. If you have not subscribed to my Studio Newsletter, you can sign up here.
I'd love to know how many of you are interested in more information on this subject.Drop me a line if you'd like to see more altered books and how to make them.
QUOTE OF THE MONTH
I am always doing that which I cannot do
in order that I may learn
how to do it.

- Pablo Picasso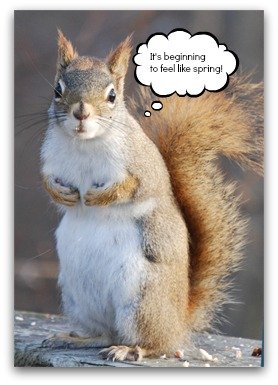 Just in case you missed them... here again, are the important links in this newsletter...
---
Happy painting!
Cheryl and the gang!
Your Decorative Painting Resource
With you step by step on your creative journey

Published by Cheryl Poulin
3152 Stonecrest Road RR2
Dunrobin, Ontario
K0A 1T0
CANADA

---
Feedback?
Comments? Burning questions? Ideas? Feedback?
Come on let me have it! I'd love to hear from you.
Just reply to this e-zine and tell me what you think…maybe you'd even like to share a tip and be mentioned in an upcoming issue!
---
Help Us Grow
Do you want to help us spread the word about Your Decorative Painting Resource? Why not pass this issue along to your creative friends and invite them to join the club! You'd be helping them and you would be helping me too.
---